With the crypto craze reaching a new high with each passing day, it is worth taking a closer look at the market to understand the companies involved, what they do, or their combined worth. According to coinmarketcap.com, there are 12,171 different cryptos in the market today, and their numbers are constantly rising. 
Although China's decision to ban cryptocurrency is a setback for the industry, considering the growing fans in that country. Still, many new doors are also opening at the same time, offering new opportunities.
Here are some of the top crypto startups or unicorns that have made it big in 2021 after raising a considerable amount of funds and improving their valuation to more than US$1 billion.
BlockFi
It was founded in New Jersey in 2017 by Zac Prince and Flori Marquez to provide credit services. It offers investors a crypto exchange, interest-bearing account, and crypto loans. 
The company had closed its Series D funding of US$350 million in the first quarter of 2021 and was valued at US$3 billion. 
The BlockFi crypto exchange does not charge transaction fees or commissions, and it has more than one million verified clients, including 350 global institutions, and US$10 billion in assets. 
However, BlockFi is currently under regulatory scrutiny over its interest-bearing accounts. The New Jersey Bureau of Securities (NJ BOS) is expected to enforce a ban on BlockFi Interest Accounts (BIAs), for which the deadline has been extended until Dec 1, as per coindesk.com. 
Its investors include Valar Ventures, Coinbase Ventures, Galaxy Digital, Morgan Creek Capital Management, Susquehanna Government Products, and Winklevoss Capital.
Also Read: Top five uranium stocks to watch as mines reopen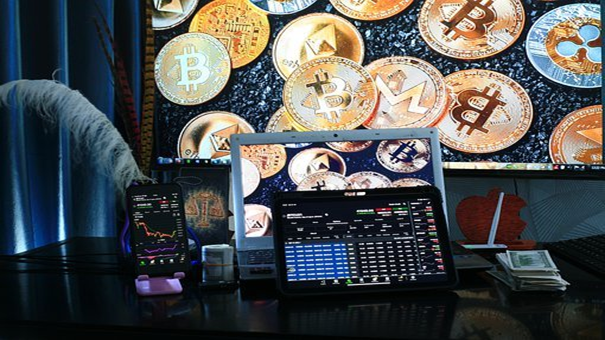 Source – pixabay.com
Also Read: Footballer Kavyon Thibodeaux's $JREAM crypto coin draws attention
Bakkt
The digital asset marketplace started in 2018 by Intercontinental Exchange to bring trust and transparency to the digital assets market. It was valued at approximately US$2.1 billion at the time of its merger with SPAC company VPC Impact Acquisition Holdings in January this year. 
Headquartered in Alpharetta, GA, Bakkt provides a crypto trading facility and payment feature with the regulated Bitcoin derivatives futures and options markets. 
On Sep 17, VPC Impact announced a special meeting of its shareholders on October 14 to approve the business arrangement with Bakkt. The new combined company will be named Bakkt Holdings, Inc., and trade on the New York Stock Exchange.
Also Read: Top five communication stocks that rode the Q2 rebound
Bitpanda       
Founded in 2014 in Vienna, Austria, Bitpanda made investing easy and accessible to everyone by providing simple and easy to use products. 
The company has now 300 million users and around 500 team members. The unique feature of this platform is that it offers to invest in stocks, ETFs, cryptocurrencies, crypto indices, and metals like gold, silver, platinum, and palladium with no fixed amount of money.
Also Read: With chipmakers in the spotlight, here's a peek at five of them
Bitpanda raised US$263 million in Series C funding and was valued at US$4.1 billion after that. Its investors include Valar Ventures, a crypto enthusiast investment firm that also invested in the Robinhood app. Other Series C funding round investors were Alan Howard and REDO Ventures, LeadBlock Partners, and Jump Capital.
Currently, the company is expanding and hiring people. As per CEO Eric Demuth, Bitpanda is a profitable venture and aim to be Europe's leading cryptocurrency payment and exchange platform.
Also Read: Are you saving enough? Here's how to build a retirement fund
Source – Pixabay
Also Read: Crude oil prices reach 3-year high on US supply disruptions
Blockchain.com
It is a crypto wallet and exchange that was started in 2011. The company has raised US$300 million in a Series C funding round in March. This unicorn was valued at US$5.2 billion. It serves 31 million verified users in over 200 countries and has created around 76 million wallets. 
Its investors include Baillie Gifford, Moore Strategic ventures, VY Capital, DST Global, and Lightspeed Venture Partners, among others.
The company started with Bitcoin (BTC) blockchain for fees, transactions, and wallet addresses. Now, the company exchanges other blockchain-based cryptocurrencies as well.
Also Read: Which companies are helping to remove carbon from the air?
Bottomline                                                                         
The global cryptocurrency market is currently valued at over US$1.9 trillion, led by bitcoin and other big crypto firms. Although cryptos are fast gaining ground, these assets are volatile. Hence, investors should carefully evaluate the companies before investing in crypto assets.




Source link

#Crypto #companies #unicorns